| | | | |
| --- | --- | --- | --- |
| Corporate Social Responsability | | | |
Tratos adoptes a Code of Ethics which adheres to the United Nations Global Compact on human rights, labour standards, protection of the environment and anti corruption measures.

Under this self regulatory code, Tratos will carry out initiatives in the environmental and social fields with special reference to environmental policies and social policies regarding child labour, compulsory labour, health and security, freedom of association and the right to collective bargaining, discrimination, disciplinary procedures, working hours and wages.

It is Tratos belief that ethical business conduct is also a condition for a firm's success. Tratos, for example, already has a strong environmental policy in place and works with customers to find more environmentally friendly solutions to their cable requirements, such as cables without halogens and the Tratos-Green cable made using purely hydroelectric energy. In fact Tratos Cavi has been using clean renewable energy from its very own hydroelectric plant since 1980. Most recently all its manufacturing facilities have been awarded ISO 14001 : 2004 certification for its Environmental Management Systems.
For more information please download the PDF files availabe on this page.
Tratos Corporate Social Responsability.pdf
---
CSR NEWS
Distance support program
Tratos
contributes to the distance support program of
AVSI
, a non-profit, non-governmental organisation. This offers an actual possibility to overcome situations of extreme need and to enhance personal talents.
Distance support contributes to improve the daily life of children and adolescents, without uprooting them from their family, social and cultural contexts.
...Read more
Premio Capaccini
Tratos Cavi has sponsored
'Premio Capaccini'
for the
16th year
running,
awarding the best high school and secondary school students in the vicinity of its headquarters in Pieve Santo Stefano, Tuscany, Italy with cash prizes.
Following WWII,
Egidio Capaccini
left the physically and economically devastated Southern Tuscany for Argentina where he was employed in a factory making cables, eventually becoming manager of the factory. In the early 1960s Egidio returned to Italy, using his experience to establish Tratos Cavi. Employees were drawn from the remnants of the textile industry that had once flourished in Southern Tuscany as their experience proved useful when it came to covering the cables with textile, as was the practise at that time.
...Read more
Modular Wiring Systems Opens New Training Facility
Modular Wiring Systems, a subsidiary of
electrical cable manufacturer Tratos Ltd, has opened a new demonstration and training facility at its offices.
The 'Modular Academy' is a showcase for Modular Wiring Systems' product range and services. The large ground floor room has been divided into three key sections – Power, Lighting and Bespoke Equipment – each with working equipment, allowing customers to see and interact with Modular Wirings products in action.
"The new Modular Academy will allow us to clearly show how modular wiring systems work", states the Managing Director of Modular Wiring Systems. "Despite such systems being on the market for some 25 years, many specifiers, developers and contractors remain unfamiliar with them and are therefore reluctant to move away from the traditional approach of fixed installations which are labour intensive and costly".
...Read more
ISO 14001: 2004 for Environmental Management awarded to all Tratos factories
The much sought after ISO 14001 : 2004 certification for Environmental Management Systems has been awarded to cable manufacturer Tratos Cavi SpA of Italy across its entire array of factories. The certification is for the management and control of environmental systems at Tratos' sites throughout Italy and follows the recent announcement of the same award for Tratos' UK site. The various sites provide design, manufacture and supply of flexible cables and cords, instrumentation and control cables and power cables, as well as insulation and sheathing materials used on these cables
Tratos is committed to reducing its impact on the environment and has implemented a number of procedures to affect this, including keeping the packaging carbon footprint as low as possible through, for example, the use of recycled material and local sourcing. The awarding of ISO 14001 : 2004 is further proof of its 'green' commitment.
...Read more
The ACI (Approved Cables Initiative)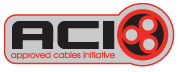 Tratos Limited is pleased to be a part of ACI (Approved Cables Initiative) as an active member of the BCA. The ACI initiative (www.aci.org.uk)led by the BCA (British Cables Association) is involving the whole cable systems supply chain from end to end – from manufacturer through installer to end user. To ensure that the cables systems and products purchased and installed throughout the UK are safe, fit for purpose and fully compliant with the requisite specifications, standards and approvals. It is estimated that 20% of cable products in the supply chain are non-approved, unsafe or counterfeit.
These products directly undermine UK and European Approval Standards and create major risks for the Industry and the UK community.
...Read more