| | | | |
| --- | --- | --- | --- |
| TRATOS WINS CONTRACT FOR EXPERIMENTAL FUSION REACTOR | | | |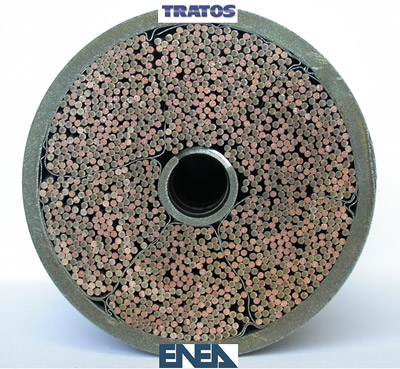 Cable manufacturer TRATOS CAVI Spa of Italy is pleased to announce that, as part of a group tender, it has won a four year contract worth €49 million to supply superconducting wire for the world ITER reactor and the Japanese JT60SA. The superconducting Cable-In-Conduit will be used in the construction of magnets for these projects.

ITER is an international project to design and build an experimental fusion reactor based on the "tokamak" concept. The project, which is currently under construction in the South of France, is to demonstrate the feasibility of energy production by controlled thermonuclear fusion.

The tender for the production of superconducting wire was put together by the Italian National Agency for New Technologies (ENEA) in conjunction with Tratos and Criotec (a specialist in components operating at extremely low temperatures). The excellent results achieved from the prototypes enabled the group to participate fully in the tendering process on an international stage with high level competitors, eventually leading to the award of the contract.

Tratos will be involved in the first stage of the contract, processing the specialised superconducting material, worth €90 million and supplied by Fusion for Energy (F4E), at its plant in Pieve Santo Stefano in Italy, after which it will be transported to Criotec near Turin for final assembly.

ICAS (Italian Consortium on Applied Superconductivity) has been formed to manage the contract. The complete project will be coordinated and overseen by ENEA to ensure the supplied components are of the highest quality. For more information on Tratos nuclear cables please contact Tratos on +39 0575 794 329.